All-in-One digital food management
Effective Food Management for Hospitality
The Sensire platform is designed to meet the needs of modern hotels, restaurants, and catering businesses. We help you to optimize and automate quality management processes through digitalization and offer unique visibility into your operation for extensive savings.
The synergy between our platform's various components and services provides a true view of your business with complete transparency and control. Gain actionable insights that help to increase food safety and efficiency while saving overall costs.
Solution to help
Save Costs
Smart waste management to reduce costs
Avoid potential loss of inventory
Reduce energy consumption
Be compliant with the regulations
Task management
Save Time
Task Management for consistent processes
Fast onboarding procedure
Reduce onsite visits
Scaling with your business
No data loss
Automating Processes
24/7 temperature monitoring
Remove the risk of human error
Centralized dashboard for real-time visibility
Reduce auditing & reporting time
Solution to
Protect your Brand
Maintain high brand standards

Ensure food safety to protect customers

Enforce tasks and react to real-time alerts

Brand unity across all sites and countries
How to digitalize your restaurants and kitchens?
We help to optimize and automate your quality management processes and offer unique visibility into your day-to-day operation. Click the video to see more!

Easy cloud management
Our cloud-powered dashboard is the central hub to view and manage your entire operation. Forget about digging through files and spending hours on the phone to get the correct audit information The dashboard provides decision-makers with consistently accurate data for immediate decision-making.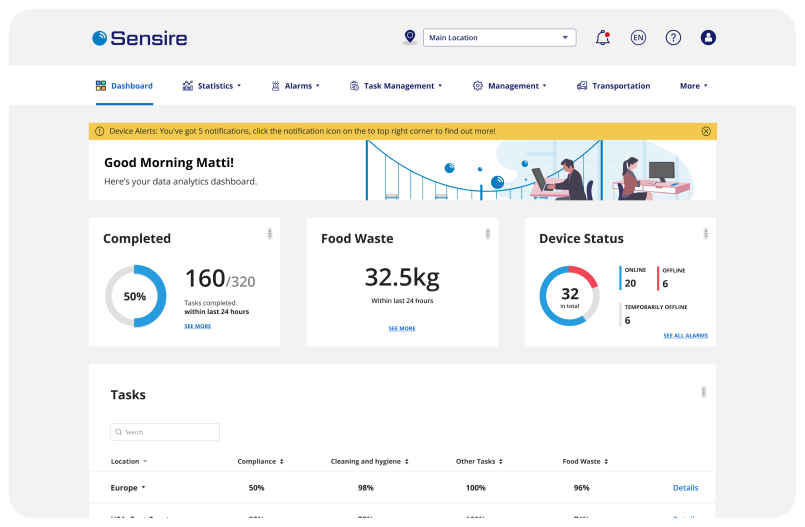 Your digital checklist
Create flexible digital checklists and workflows with our task management solution. Make sure everything is done correctly and on time with easy step-by-step guidance - even for new employees!
24/7 Temperature monitoring
Automatic temperature monitoring is your first layer of defense when it comes to losing inventory and fighting food waste. Get instant alerts in case of deviations to arrange for corrective actions. Avoid time-consuming and error-prone manual recordings. Gain complete confidence in your temperature monitoring and save money by optimizing appliance temperatures.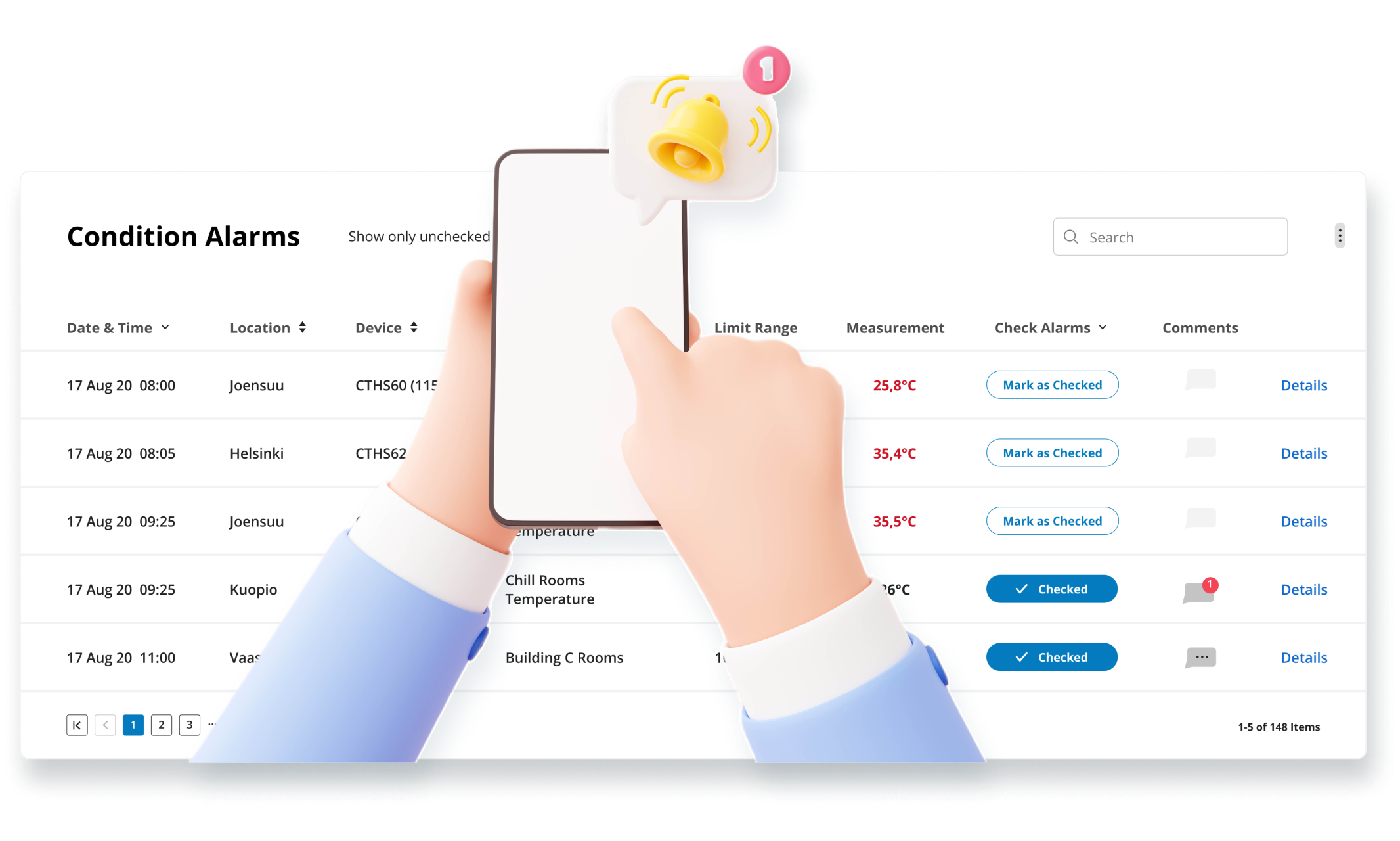 Testimonials
Hear what our hospitality customers have to say
''We receive data through Sensire's sensors on our fridges and food temperatures online. This saves us time when we need to go through the necessary data. We use Sensire's mobile app to create tasks and guide our daily workflow. The tasks can be easily copied to other locations, making it scalable with our company needs.''
"Sensire is our daily driver for many processes around the hotel. The automatic temperature monitoring has not only been a time but also life saver. The solution gave us the visibility we needed to update ourprocesses.Sensire helped Hotel Arthur bring visibility to hundreds of recorded measurements. Once they started to analyze the collected data within the Sensire cloud environment, they were able to improve their processes and decrease deviations."
The all-in-one solution for your food management needs.
---
Task Assistant App

Consistent Task and Instructions for All Employees

Task Planning

Digital HACCP Template & Guide

Free Online Training Session

Professional Online Support

No More Pen and Paper!