Task management
Align Workflows In All Locations
Our task management helps you to keep track of all tasks. Make sure everything is done correctly and on time. Create easy onboarding processes and guides for new employees. Effortlessly copy tasks from one location to a new one. We provide you with the tools for creating consistent workflows for your business.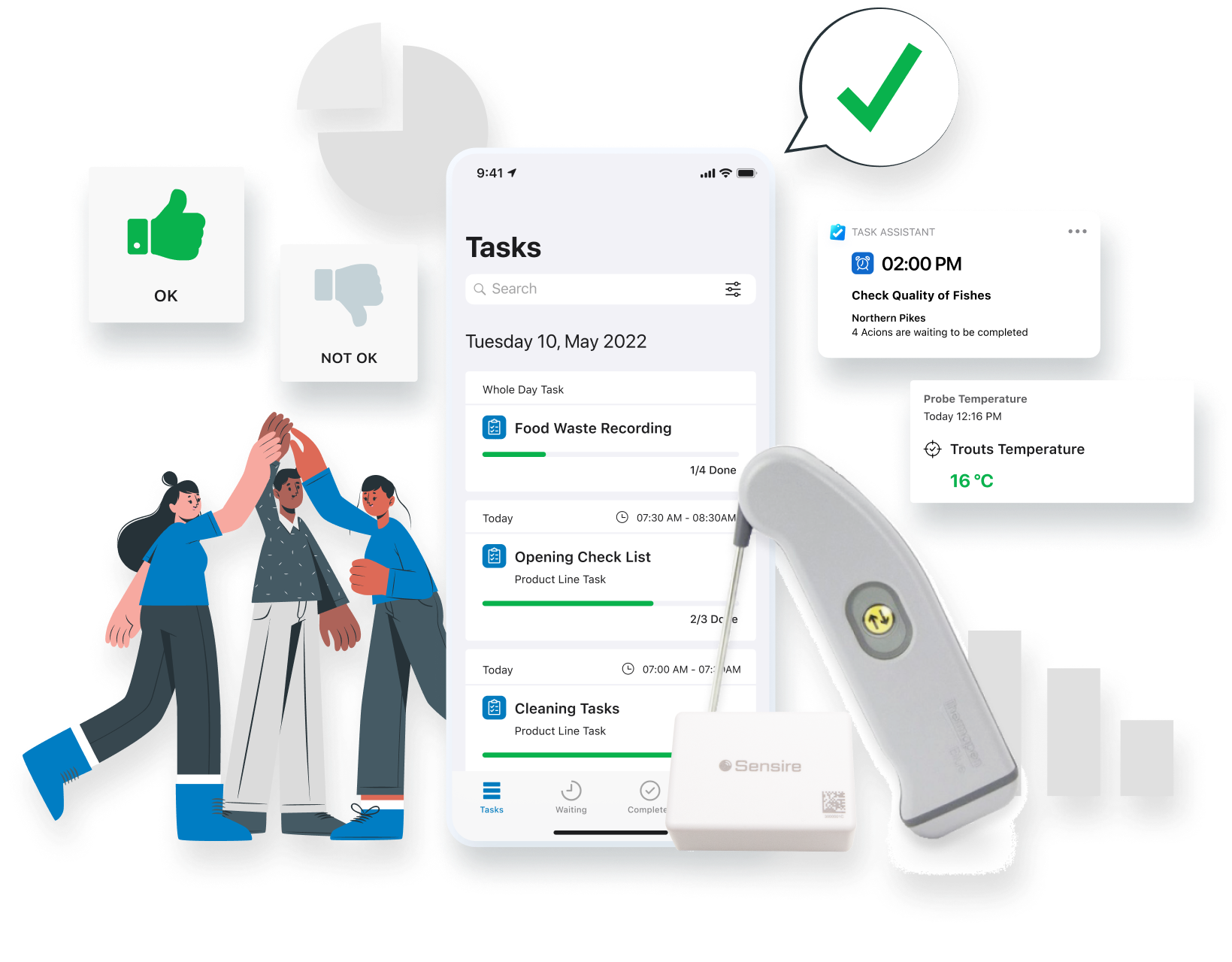 Powerful features
All-in-one solution for your entire team
Our task management feature is packed with useful features to streamline your business by simplifying procedures and ensuring health and food safety.
Create flexible digital checklists, workflows, and tasks for your processes. Paper-based documentation becomes unnecessary and helps to save valuable resources.
Assign tasks to specific user groups. Only relevant tasks are shown to each user. Avoid confusion and work more efficiently.
Easy-to-use deviation handling enables you to create corrective action for one or all of your locations within the task management module.
All task data is instantly uploaded to the cloud platform to provide end-to-end visibility. Use the information in dashboards, reporting, and audits.
Display task data in your cloud dashboards or info screens to quickly overview each location's current performance or compliance status.
Ensure that tasks are carried out on time and with the correct methods. Reminders and alarms keep employees on track.
A picture is worth a thousand words! Employees can attach photos to tasks and deviation handling. Ensure safety by providing detailed information.
Easy-to-understand instructions for completing tasks with step-by-step guidance. Add text, images, and videos.



"It's a big part of the staff's workday. For example, when our cook prepares multiple batches of the same food, she'll measure the temperature of each batch and records the results on her mobile device. All other food safety tasks are recorded similarly, as well as certain cleaning tasks. On the storage side, an employee performs receiving inspections by measuring temperatures of incoming food products.

In other words, every employee gets their own set of tasks, and when this person logs in to the food safety app, the application shows them just the tasks that they need to perform that day."
EIJA HEINONEN
Service Manager, Support Services, Food & Cleaning Services | City of Varkaus
We'd love to work with you!
Join hundreds of successful customers in achieving their business goals with our solution!