Audits and Reporting
Powerful Reporting Tool for your Food Management
Our powerful reporting feature allows for stress-free inspections and provides you with all necessary reports by clicking a button. Ensure to meet regulatory requirements every day, regardless of the size of your business. Use your audit data for deeper analysis to run your business more efficiently.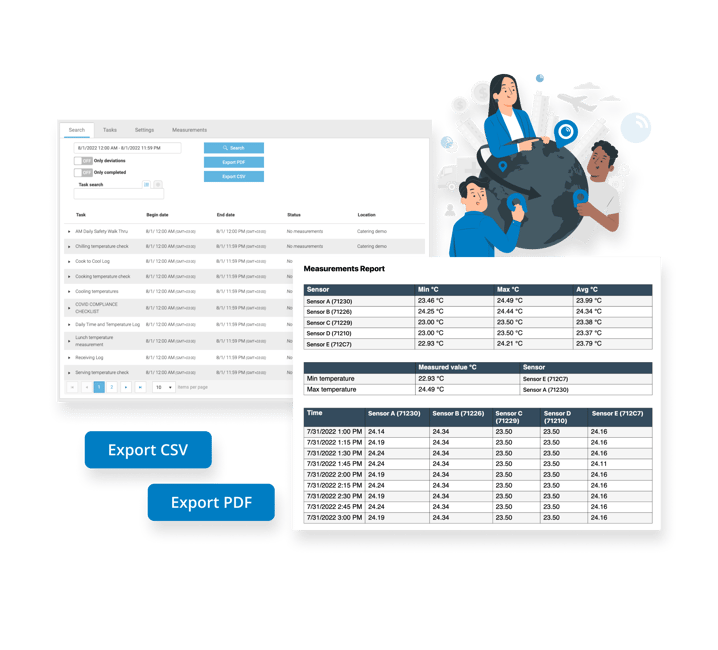 Create reports with the click of a button
Perform detailed audits and create reports with the click of a button, anytime, anywhere.
Stress-free audits and reporting
We offer a stress-free and centralized reporting tool for your food management needs. From compliance to analysis, for one-man operations to hundred locations, we are here to help!
Generate custom reports with the click of a button. From anywhere and anytime you want.
Never worry about compliance again. All reports provide you with a complete audit trail for internal or external inspections.
Management users from your organization can create reports directly from the cloud interface.
All recorded actions are automatically gathered and visible in the cloud, ready to be exported for your next audit!
Select any time period for your reports. Tailor them to specific inspections or compare certain months.
Central management for checklists, workflows, and tasks increases the accountability amongst your staff significantly.
Our platform provides you with a complete audit trail for all recorded data. Allow external auditors to view it directly from the cloud.
Create 100% digital and paperless reports directly from the cloud. Export data to PDF or CSV for further analysis.
Our state-of-the-art food management platform is built with reliability in mind to keep your data protected.



''After introducing Sensire's solution, Essote has saved tens of thousands of euros. Automatic measuring saves both work and time and collects the results in one central platform. Constant monitoring also gives Essote staff ample time to react in order to avoid breakage, large-scale expenses, and unnecessary waste.''
Essote
Southern Savonia Social and Health Care Services
We'd love to work with you!
Join hundreds of successful hospitality customers in achieving their business goals with our solution.