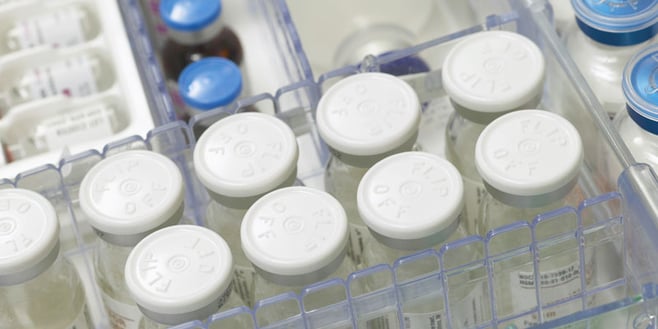 Getting the right medicine to the right recipient isn't always easy: in temperature-controlled pharmaceuticals the waste reached over 15 % in 2014. In 2019, IQVIA institute found that the biopharma industry alone loses approximately $35 billion annually to temperature failures. And while the monetary losses can be staggeringly huge, lives are also in danger because of degraded pharmaceuticals. According to a study done for Cargosense:
· 25% of vaccines reach their destination degraded because of incorrect shipping.
· 30% of scrapped pharmaceuticals can be attributed to logistics issues alone.
· 20% of temp-sensitive products are damaged during transport due to a broken cold chain.
These percentages are unacceptable whether viewed from financial or safety perspectives. Managing pharma cold chain logistics is obviously a strenuous effort, but that should not be an excuse for this kind of waste. The fact that we have these statistics tells us that pharmaceutical cold chain is monitored, but that it is monitored after the fact.
That the industry is capable of recognizing degraded vaccines and medicines before administration is good - what would be better, however, is that we could spot the excursions when they are happening. This would bring down the cost of losses and provide people with the pharmaceuticals they need. So where would real-time monitoring help cut waste?

Environmental Hazards
Particularly shipping to less developed nations is difficult due to inadequate equipment and demanding climates – it's always too hot or too cold, and the transport routes to the end patient may wend through sweaty jungle or freezing mountains. Pharma supply chain logistics should be able to handle all of these environments, and there should be a system for planning the route in advance and acquiring the packaging best suited for the specific conditions. At the moment, Coca-Cola does this better than any pharma cold chain. With real-time data, critical points can be reacted to and ultimately planned for.
Another area for worry besides spoiling in transit are unplanned stops. Whereas the WHO insists that all health care workers know how to monitor the cold chain when dealing with vaccines, the same is not true of various transportation providers and officials at ports and airports. Nearly 10% of electronic customs import files contain an error of some sort. This means unnecessary hold-ups on airfields and in ports that can lead to the pharmaceuticals spoiling very quickly, as evidenced by this quote from the Cargosense study: "A pallet of unprotected product on an airport tarmac with an ambient temperature of ~70°F (21°C) can quickly reach temperatures above ~130°F (55°C). At that temperature, you can fry an egg in 20 minutes."
New Innovations Create New Challenges
End-to-end visibility is clearly also a growing concern with the adoption of new pharmaceutical products and practices. While vaccines are traditionally shipped through the cold chain, newer products can withstand warmer temperatures, which may lessen the need for heavy cooling equipment. However, we're still talking of monitored room temperatures, as there are temperature limits to what pharmaceuticals can withstand.
On the other hand, cold chain shipping of biological and gene-based personalized medicines is a rising trend, which demands rigorous temperature control as well as speedy shipping, due to the fact that their shelf-life is very short. Or course, a sure way of connecting a particular patient to the medicinal product coded to their genes is also something which will be needed.

Complying with Regulation
With EU planning updates to Annex 1 on the manufacture of sterile medicinal products, particularly cleanroom monitoring will get much more closely supervised. In the coming years, regulations on Good Manufacturing Practice (GMP) and Good Distribution Practice (GDP) will also require ever more monitoring by pharmaceutical manufacturing, transportation and storage operators. Tightening regulation concerning the traceability of pharmaceuticals will also impact the industry. (For more on GxP, click here)
But this is not all: with more and more electronic systems adopted, the international community will also demand better data security from those monitoring systems. And with the 2017 adoption of Mutual Recognition Agreement (MRA) between the EU and the US, their regulations are sure to cross-contaminate even more than is normally expected in international setting. With all this in mind, ensuring compliance sooner rather than later would be highly advisable, meaning there will be a demand for multi-purpose monitoring systems that can ensure compliance.
One Small Step
Looking at the challenges facing pharma cold chain logistics, it becomes clear that real-time temperature control is supremely important. Adopting the technology would be the surest way of both spotting temperature excursions as well as finding out the parts of the cold chain that are most vulnerable to difficulties. Turning to the safest shipping lanes and other transport routes can be best done by analyzing continuous temperature data, which can save a company huge amounts of money.
Naturally financial loss is not even the worst part in a cold chain gone wrong. Making sure that the cold chain is optimally monitored, with visibility to all concerned parties, is the key thing in ensuring that the pharmaceuticals that reach the patient actually do what they are supposed to. Investing in an automated temperature monitoring system that can deliver data in real time makes transporting pharmaceuticals safer, easier and ultimately cheaper. Along with patient safety come savings through process optimization, decreased waste and and less unnecessary work in studying why exceptions have happened.
---
If you want to see how we can help you with improving your cold chain temperature monitoring, check out our solution for pharmaceutical logistics:
And you can find more information on the matters we discussed in this blog, as well as other related subjects, on our most comprehensive resource yet: Temperature Monitoring in the Pharmaceutical Cold Chain