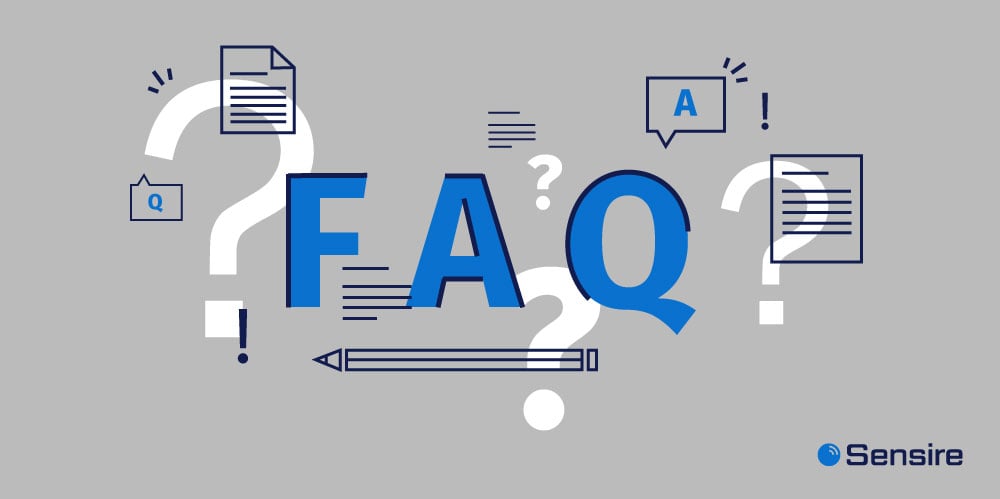 It's time for another Frequently Asked Questions blog, this time concentrating on some basic questions on food cold chain and HACCP. (You can find the first part of the FAQ here.)
How do we monitor the temperature of food?
Traditionally monitoring the temperatures of food in both storage and production has been done manually by staff, either by checking thermometers in storage or inserting probes in prepared food and writing down the results on paper.
With new IoT technologies, it is now possible to automate most monitoring tasks with digital wireless solutions. For example, Sensire develops and manufactures automatic sensors for cold storage facilities which send data in real time to a cloud platform. They can also be connected to our smart HACCP app, which schedules food safety tasks and supports electronic monitoring of food preparation temperature measuring as well as other HACCP task entries.
How long is the cold chain for food?
The guiding principle of monitoring the food cold chain is that everything the consumer puts in their mouth should be traceable from "farm to fork". Considering the complexity of the global logistics chain for food, this is not always the case. Within more limited areas, like the EU or US, for example, the principle is better controlled.
There are still some blind spots, however, as is the case with end-to-end temperature monitoring. The technology and means for achieving this are becoming more accessible and cost-effective, and a real-time system that can alert on temperature limit breaches can actually make money in prevented waste compared to the cost of the system.
What happens if fresh food is left out of cold chain?
Bacteria growth and other risk factors of food safety rise. Once food warms past cold chain temperatures, it enters "danger zone", which is around 5°C to 60°C, where bacteria and mold growth increases and natural decay intensifies. Even if the food doesn't become unsafe, often incorrect conditions cause the appearance or taste to change. This can lead to food waste just as much as bacterial growth, because consumers don't often want to buy products that are in less than perfect condition.
What temperature does food in cold storage need to be?
What temperature the food in a cold storage should be differs in regulatory practice somewhat from country to country, but on average if the food is expected to be kept within cold chain conditions and out of the danger zone, the temperature should be below 4°C to keep bacterial growth at a minimum.
What is the most accurate way to monitor food temperatures in a refrigerator?
Temperature sensor are a good way of monitoring temperatures, but are often placed in spots that distort the real temperature or are inaccurate in general. Factors such as the degree of filling and closeness to the fan or the door can affect the temperature readings significantly.
Sensire's wireless sensors offer an easy way to get accurate temperature readings either with mobile sensors or with extension probes that can be placed in such a way that the temperature measurements reflect the actual fridge temperatures.
How to fit temp sensors in a food freezer?
There are many different kinds of temperature sensors, so the best way of ensuring the sensor fits a given freezer is to choose one that is designed to be used in such locations and is as small as possible without compromising accuracy.
For example, our wireless temperature and condition sensors are designed to be as inconspicuous as possible so they won't hinder the normal use of fridges or freezers.
Why must food establishments carry out HACCP?
The simple answer is that you must carry out HACCP to ensure food safety, which entails ensuring traceability and documentation of best practices for authorities and other institutions. This is not only smart, it is also required by EU regulation (EC) No 852/2004.
Once a food business has developed and documented a HACCP plan what must you do?
Once the plan is made, it must be implemented. This means putting to practice all those controls that were recognized as critical during the drawing up of the plan. The staff should also understand how important monitoring the critical control points is for overall food safety and the functioning of the HACCP system.
Once the plan is put into action, it should also be periodically verified. This could mean audits, sampling, testing or trend analysis, or other measures that can tell about the success of the HACCP system that is in place. These audits may reveal places in the system that need to be controlled or monitored to ensure food safety. The plan must then be updated to include these new measures to remain effective.
A safe bet would be to audit the HACCP plan whenever something changes in the process, because these are often the times that additional safety measures may be needed in order to safeguard the new processes.
In a HACCP system what is the difference between a control measure and a monitoring procedure?
A control measure is often a task and includes a point for monitoring. Control measures are the actions taken to prevent any hazards to food safety or to at least reduce them to an acceptable level. In the case cold storage, for example, keeping the food that needs to be chilled in the chilled storage would be considered a control measure in itself, and it would involve a monitoring procedure to make sure the storage stays chilled.
A monitoring procedure, then, means the act of observing a control point to make sure that set limits are not breached, such as monitoring the temperature in that chilled storage for signs of temperature exceptions.
Monitoring must also reflect the specific hazard that is controlled at that control point. To make this easier, many measurements can be automated, as in the case of that storage you might easily set up an automated system with sensors that measure 24/7/365 ensuring continuous temperature/condition data.
What HACCP paperwork is needed in kitchen?
The HACCP plan should be accessible at premises, so that there is always information on what the critical control points are and how they must be monitored and controlled to prevent hazards.
Additionally, there should be records kept on monitoring results and any corrective actions taken to prevent hazards and bring back control. These don't have to be paper work, however, as electronic recordkeeping can be implemented to many of these checklists.
A smart app, for example, can be used to keep records of such varied monitoring points as different temperature checklist for fridges and freezers; serving, heating and preparation temperatures; cooling start/end temperatures, cleaning tasks, waste list etc.
If your HACCP is breached how do you document it?
All deviations in the process must be documented within the requirements set by the control plan. This usually includes information on the product in question and the time the situation took place; what the hazard was; what was done to correct the situation; who was the one who took the corrective action; and possibly the results of the procedure.
These can also recorded electronically; with Sensire's HACCP solution the system is tied to the user, and will automatically demand an explanation and corrective response from each deviation. This will automate the process of documentation of breaches and ensure and enhance quality control.
Looking forward to more articles like this one? Follow Sensire on social media and you'll be the first to know when new articles turn up!